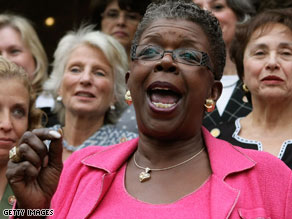 Rep. Stephanie Tubbs Jones, the first BLACK woman to represent Ohio on the U.S. House of Representatives died Wednesday after suffering a brain aneurysm, medical officials said.   Rep. Tubbs Jones, who was 58 years old and in her fifth term, suffered the aneurysm on Tuesday, while driving in Cleveland Heights, Ohio.  
    CNN reports, she was rushed to East Cleaveland's Huron Hospital, where a team of doctors determined Wednesday morning that she had "very limited brain function," said Dr. Gus Kious, the hospitals chief of staff.  According to a statement from her family, Huron Hospital and the Cleveland Clinic, before Tubbs Jones died the aneurysm was in an "inaccessible part of her brain."  Tubbs Jones died at 6:12 p.m. 
    Tubbs Jones was a superdelegate and scheduled to attend the Democratic National Convention next week in Denver, Colorado. 
    She was born in Cleveland, she started public life as a municipal judge in 1981.  She also was a trial court judge for seven years before her election into Congress.  She was expected to win her sixth term this upcoming November.  Tubbs Jones was a member of the dynamic Delta Sigma Theta Sorority, Inc.  and she was definitely a woman who defined her own dreams, but also was dedicated to helping others to find and define their dreams.  She was truly one of the greatest leaders in the United States political system.  
    Tubbs Jones' husband passed in 2003 of a heart attack.  The couple shared one son.